CLAIRE ROYER
WHAT IS OSTEOPATHY ?
Osteopathy is a manual therapeutic method, used to find and treat mobility restrictions that affect the body's structure.
Osteopathy can treat mechanical, visceral or circulatory problems.
The osteopath seeks to treat the patient as a whole and improve their quality of life.
THE BENEFITS
The reduction of restrictions to mobility will allow the human body to heal itself more effectively in situations where it is in stress or trauma, or in the case of disease.
The osteopath works with the person in a holistic way using their deep knowledge of anatomy, physiology and biomechanics.
A THERAPY FOR EVERYONE
The osteopath adapts the treatment they offer to the age and the needs of each patient. Osteopathy is suitable for anyone.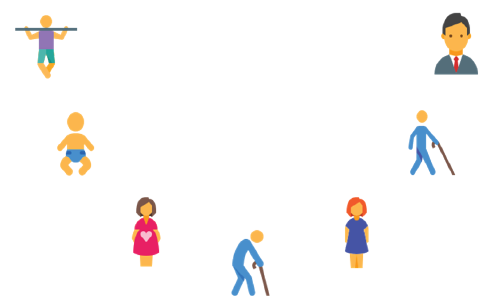 MY PROFILE
Each patient is unique. My approach relies on being adapted to each individual, and is enriched thanks to my experience. I have been very fortunate, in my professional development, to have the opportunity to learn from, and adapt my skills to the cultural environments in which I have found myself, I have spent two years in Hong Kong and one year in Barcelona, growing in experience and familiarising myself with traditional Chinese medicine. Thanks to the many different techniques I have learnt, I am always very keen to find the ones which will best suit the interests of the patient, in order to achieve the best results and improve the state of health of the person concerned.
I completed 5 years of study at the School of Osteopathy in Nantes (IdHEO) in FranceSubsequently, I studied for a Master's Degree in health engineering in order to learn more about rehabilitation programmes, disability and motor skills. This also allowed me to deepen my knowledge of anatomy, imagery and morphogenesis, largely through work in the dissection laboratory.
206
Bones make up your body as an adult
62 %
of the reasons for requesting a consultation in osteopathy are musculoskeletal pain
5
years of study allow me to obtain the Diploma of Osteopathy in France
3
countries where I have already practiced as an osteopath: Spain, Hong Kong and now France
TESTIMONIALS
Feedback from patients treated by Claire
"I went to two sessions of Claire for a chronic sciatic nerve problem. Claire is an impressive professional who investigates thoroughly before moving on to the practical part. She not only works with a lot of care and sensitivity, but also brings real and efficient improvement. Absolutely recommended."
"I consulted Miss Claire ROYER, Osteopath, for shoulder muscle pain and lack of mobility in my neck. Since her intervention in these areas, it unlocked me and I regained my mobility, thanks again to Claire."
From the first session, I noticed many changes in me. I made an appointment because I was unable to sleep. My jaw and hip ached every day when I woke up, which was maybe linked to the daily stress which had accumulated over time and which had generated muscular pain in my body. In addition, some months previously, I had suffered a fracture of the metacarpals of my left hand,